Regulátor TMM 0710-3 EXPERT 7A/12V
Pro proudy do 7A z jednoho až tří článků LiPol.
Brushless speed controller for aircraft models (for brushless motors).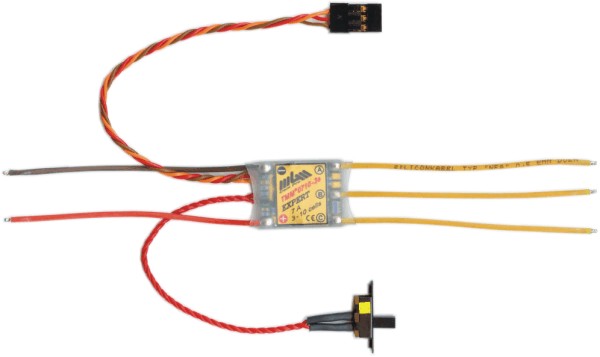 Suitable for motors:
For 2 to 20 pole motors of classical conception (rotor inside) and also for outrunners (rotor is on the outer side).
(Mega AC, Model Motors, MP JET, PJS, Überall model, Hacker, Kontronik, LRK, Plettenberg, etc.)
Dimensions (with external capacitor) [mm]:
22×18×4,5
Weight without power conductors:
3,5 g
Weight incl. all conductors:
5,5 g
Power cables:
0,5 mm2
Length of the power cables:
70 mm
JR gold servoconnector, servocable:
0,15 mm2
 
 
Number of NiCd / NiMh feeding cells:
3 up to 10
Number of Li-Ion, Li-Pol feeding cells:
1 up to 3
Max. continuous current (for full throttle):
7 A
Max. current for full throttle (peak 5 sec.):
10 A
Number of regulation steps:
1024
Switching frequency of the motor (PWM):
8 kHz
On-state switch resistance at 25 °C:
2×18 mOhm
 
 
Version:
BEC
BEC voltage:
5V / 3,7V
max. BEC current for 25 °C:
4 A
 
 
Programming with transmitter:
yes
Programming with computer (PC):
yes
Data reading from controller:
yes
Recommended use:
Aircraft, gliders, for motor with or without gearbox.
Automatically programmed parameters:
Parameters of control signal, number (only NiCd/NiMH) and quality of cells, current fuse, cut off voltage.
Programmable parameters:
See PDF manual.
Note:
Weight of the controller with switch is 2 grams higher.
Prodejní cena regulátoru bez vypínače je 1398.- Kč.